"The Art of Nourishing.Game Gourmet" Seafood Dinner Buffet
Autumn is coming, and it's about time to get into the wild. Prudential Hotel proudly presents "The Art of Nourishing.Game Gourmet" Seafood Dinner Buffet, with a series of game dish made with venison, ostrich, frog, crocodile and wild mushrooms etc., which contain a great nutritional value. Also, carrying out the theme of "The Art of Nourishing, we prepare a series of delicacies made with Sturgeon, is also known as the Emperor Fish, which contains superior quality protein and a great nutritional value and it is loved for its tastes, tenderness and sweetness and elasticity. In this autumn, we are pleased to invite you to join us in the game season and indulge yourself in the taste of wild.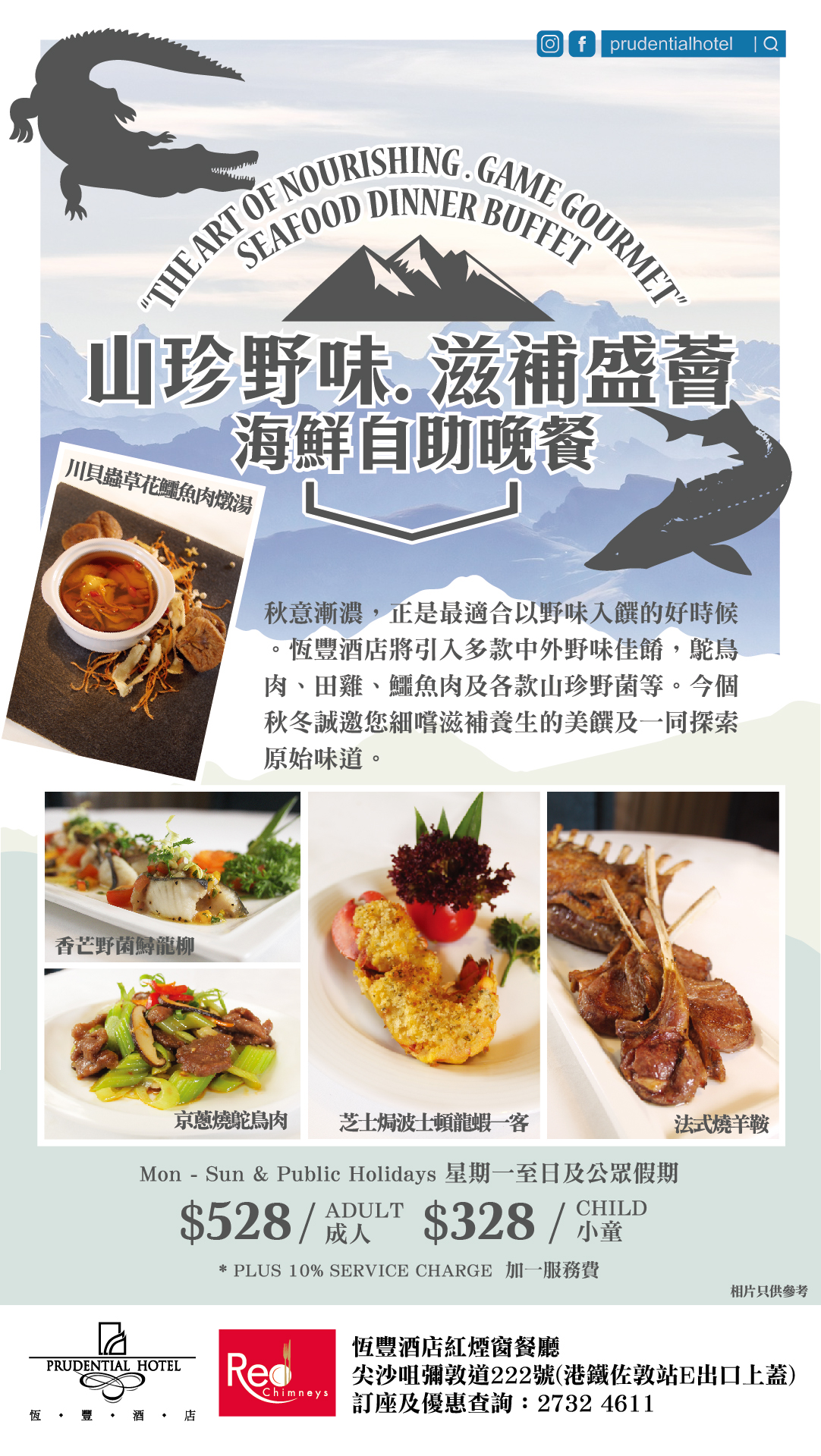 *
Each guest will be able to enjoy a free Baked Boston Lobster with Cheese (half).
Chef Recommendations: Canadian Snow Crab Leg, New Zealand Oysters, Blue Mussels Soak with Basil, Herbs Baby Yabbies, Chilled Prawn with Cocktail Sauce, Assorted Sashimi, Assorted Sushi, Australian Venison Pate, Roasted Marinated Wild Mushroom with Pesto Salad, French Confit Duck Salad.
Exquisite Delicacies: Roasted Lamb Rack on Ratatouille, Steamed Sturgeon Fillet, Mango Gremolata, Braised Sturgeon with Isosmotic Mushroom and Garlic, Spicy Pepper Sturgeon Spines, Pan Seared Duck Foie Gras with Balsamic, Stir Fried Ostrich Fillet with Bean Paste, Australian Venison Loin Skewer, Crocodile Soup with Cordyceps Flower and Fritillaria Cirrhosa, Sichuan Style Frog Leg with Hot Chili, Mushroom Bread and Butter Pudding, Duck Liver and Mushroom Quesadilla, 63°C Egg with Truffle Paste, Chicken Pauppiette with Filo Dough, Sauteed Seafood with Thai Chili Sauce, Roasted Beef Pita, Braised Egg Noodle with Mushroom with Abalone Sauce.
,
Sweet Temptations: Ice cream and Fresh Fruit Pancake, Fresh Fruit Tart, Mango & Chestnut Cream Cake, French Crème Brûlée, Mini Portuguese Egg Tart, Swiss Mövenpick Ice Cream & Häagen-Dazs Ice Cream.
*Specialties of the buffet are served on rotation basis.
Available from: Monday to Sunday & Public Holiday
Dinner Buffet: 6:30pm – 9:30pm
Adult$528, Child$328
*10% service charge on original price
"Like" our Facebook Fan Page or "Follow" Instagram: prudentialhotel: on Monday to Thursday (weekday) discount will be offered to 30%, Friday to Sunday & public holiday eve offered to 25%.
Reservation: +852 2732 4611