Weekend Selection Japanese, Korean, Taiwanese
Lunch Buffet & Tea Buffet
Prudential Hotel is proud to present you "Weekend Selection Japanese, Korean, Taiwanese Lunch Buffet & Tea Buffet"! Selected of many remarkable and unique cuisines to enlighten your weekend!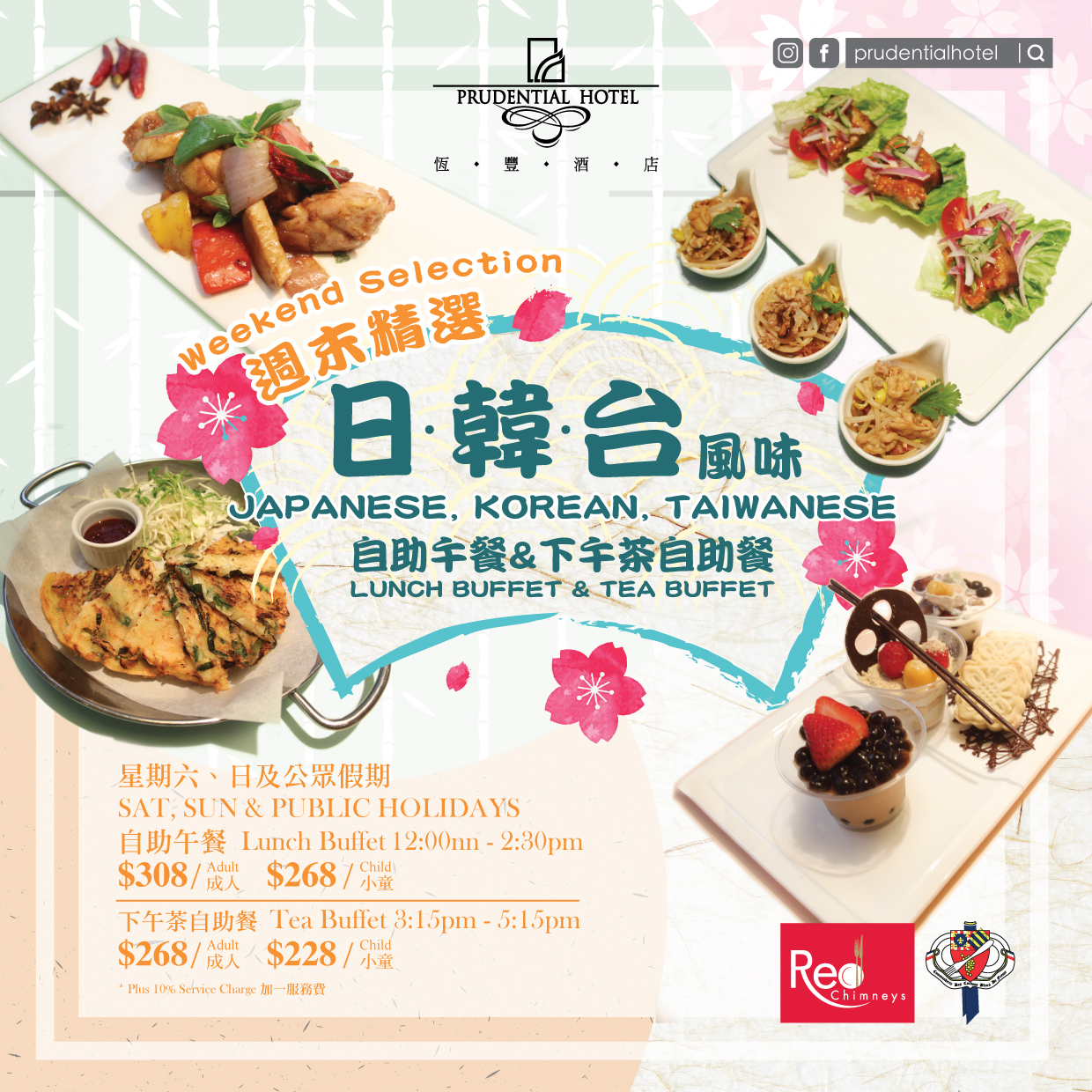 Cold Selections: Assorted Maki Roll, Pork Belly w/ Lettuce, Bean Sprouts & Pork Meat Salad, Taiwanese Bubble Milk Tea.
Exclusive Delicacies: Braised Rice Cake & Beef, Three Cups of Chicken, Crispy Prawn Cake, Green Leek & Seafood Pan Cake, Hot Spring Egg, Taiwan Sausage, Chicken & Ginseng Soup, Oyster Vermicelli.
Recommend Desserts: Home Made Pineapple Cake, Green Tea Serradura, Pearl Milk Pudding, Mixed Taro Balls w/ Red Bean, Dreyer's Ice Cream Cup & Korean Ice Stick
*New Zealand Oyster, Canadian Snow Crab, Mussels, Cold Shrimps, Parma Ham w/ Melon will be served on lunch buffet.
*Specialties of the buffet are served on rotation basis.


Every Sat, Sun & Public Holiday
Time: Lunch (12:00pm-02:30pm), Tea (03:15pm-05:15pm)
Lunch Buffet
Adult$308, Child$268
Tea Buffet
Adult$268, Child$228
*10% service charge on original price


"Like" our Facebook Fan Page or "Follow" Instagram: prudentialhotel, 15% off discount will be offered on Lunch Buffet & 40% on Tea Buffet.
Reservation: +852 2732 4611.