Mediterranean Food Fest.Seafood Dinner Buffet
The Mediterranean diet is a diet inspired by the eating habits of Southern Europe such as Greece, Spain, France and Italy. It is one of the healthiest diets, given the variety and high consumption of vegetable and fruit, moderate to high consumption of meat and fish, and the provision of cereals and olive oil. The Mediterranean diet is not just a diet but a lifestyle. This summer, Prudential Hotel presents you "Mediterranean Food Fest.Seafood Dinner Buffet", shows you the guideline to healthy living!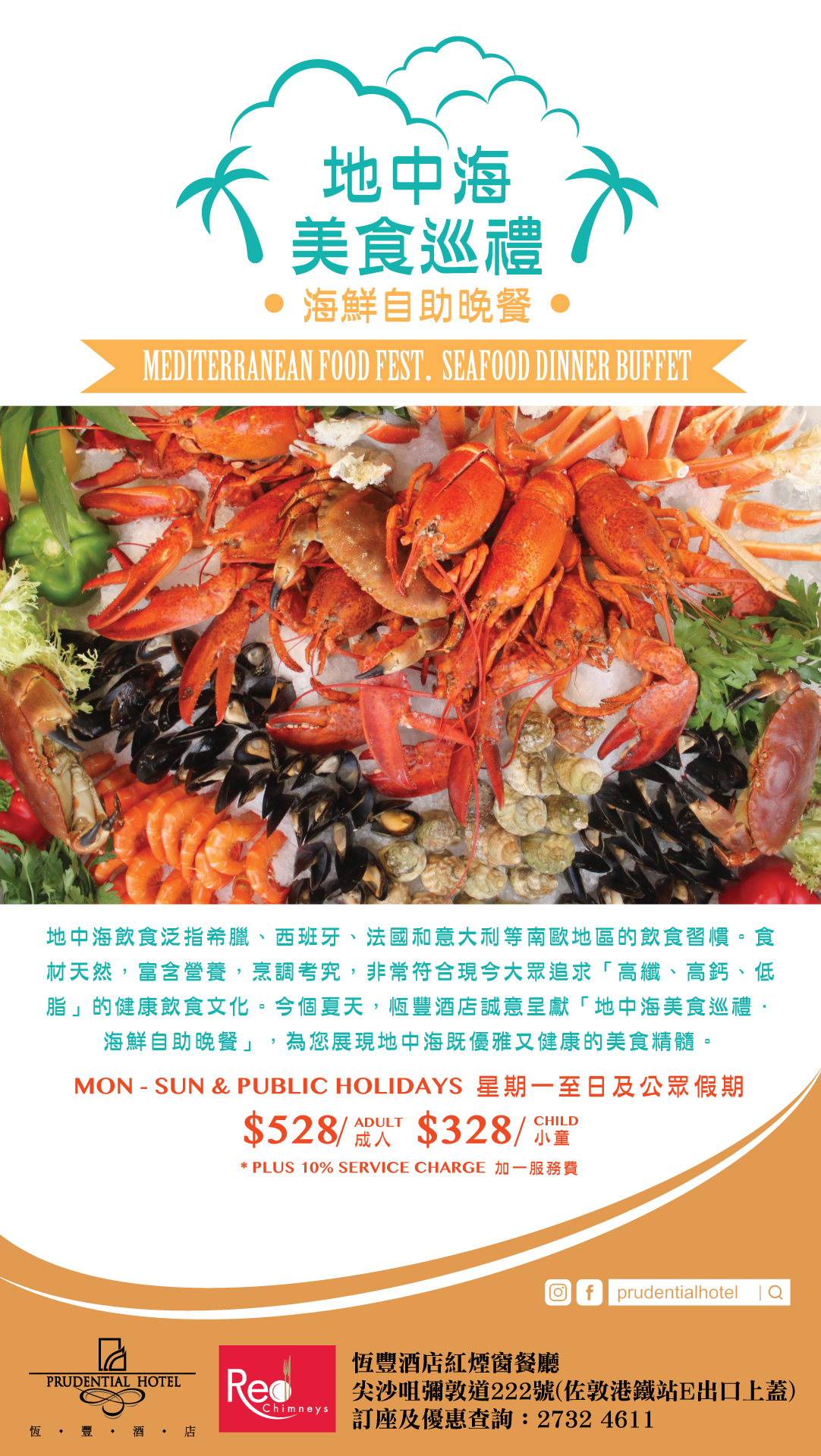 Seafood Selection: Canadian Snow Crab Leg will be served From Monday to Thursday; Boston Lobster will be served From Friday to Sunday & Public Holiday. New Zealand Oyster will be supplied on Monday to Sunday & Public Holiday.
Chef Recommendations: New Zealand Oysters, Blue Mussels Soak with Basil, Herbs Baby Yabbies, Jade Whelk, French Brown Crab, Assorted Sashimi, Kumamoto Beef Sashimi, Blue Mussel Tabouleh, Sesame Ahi Tuna.
Exquisite Delicacies: Grilled Prime Rib, Steamed Baby Alaska Clam w/ Glass Noodle and Garlic, Cheese Raclette , Baked Mediterranean Seafood in Rich Cheese, Mussel Provençale, Duck Liver and Mushroom Quesadilla, Mediterranean Seafood Pizza, Kumamoto Beef Yakitori, Deep Fried Lobster Wonton, Canard A La Presse, Lobster Bisque in Pastry.
Sweet Temptations: Ice cream and Fresh Fruit Pancake, Bean Curd Cheesecake, 4 tastes of Swiss Mövenpick Ice Cream & 4 tastes of Häagen-Dazs Ice Cream.
*Specialties of the buffet are served on rotation basis.
Available from: Monday to Sunday & Public Holiday
Dinner Buffet: 6:30pm – 9:30pm
Adult$528, Child$328
*10% service charge on original price
"Like" our Facebook Fan Page or "Follow" Instagram: prudentialhotel: on Monday to Thursday (weekday) discount will be offered to 30%, Friday to Sunday & public holiday eve offered to 25%.
Reservation: +852 2732 4611