French Edition – Seafood Dinner Buffet
Pursuing the happiness is now the most essential thing in life. Some believe that enjoying food can be one of the methods, or maybe the best one. In May, Prudential Hotel proudly presents you, French Edition - Seafood Dinner Buffet. Selected of more than 15 countries' remarkable cuisines and prepared a variety of classic French delicacies. Make you feel like dining at a fine restaurant in Paris, enjoying the cuisine and the atmosphere.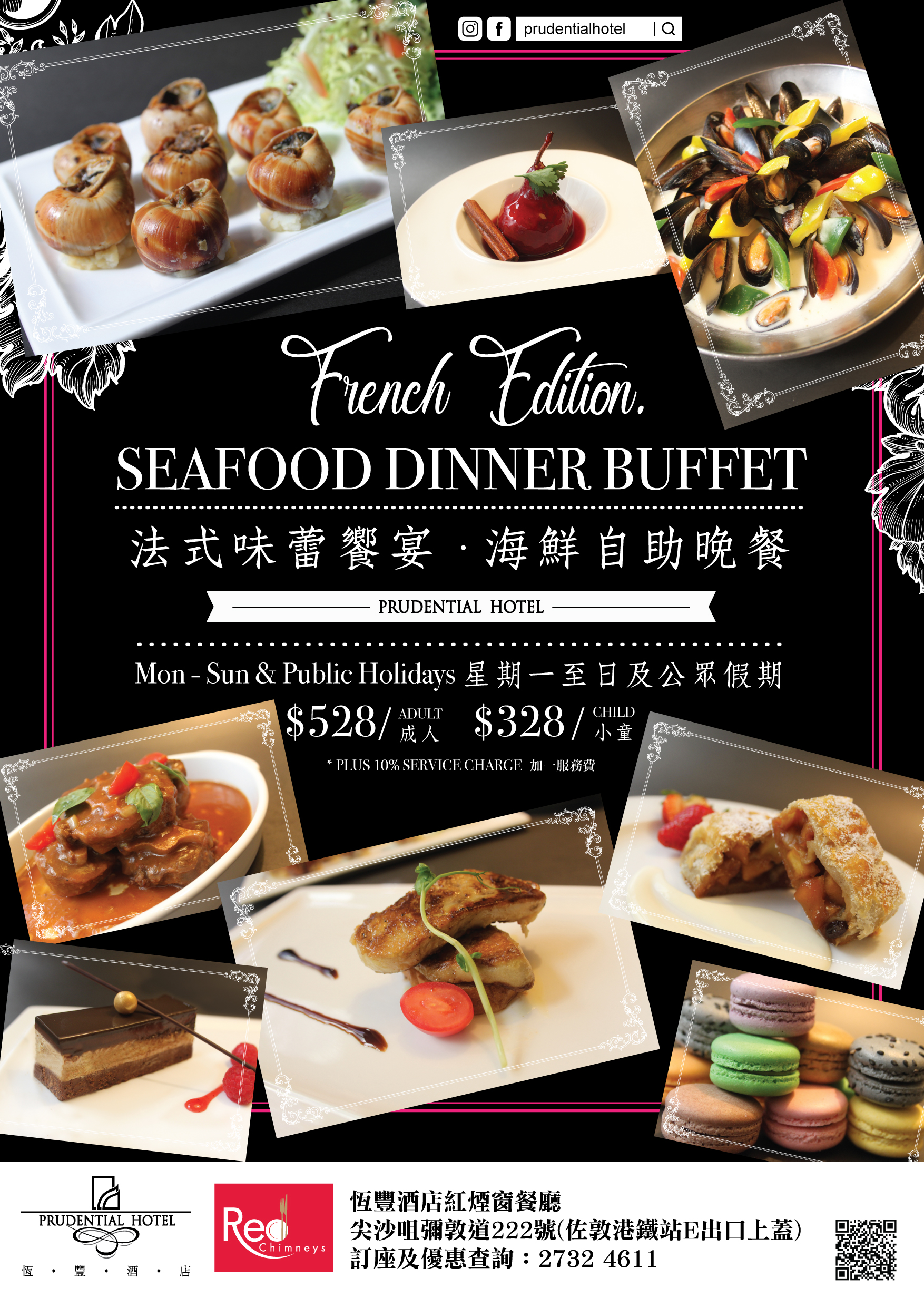 Chef Recommendations: Canadian Snow Crab Leg, Oysters, Cold Thai Prawn, French Brown Crab, French Blue Mussel & Cray Fish, Assorted Sashimi, Deep Fried Camembert Cheese & Cherry Tomato Salad, Nicoise Salad.
Exquisite Delicacies: Pan Fried Duck Liver w/ Garlic Bread, Escargots De Bougogne, Stew Ox-tail w/ Red Wine Sauce, Braised Mussels w/ White Wine, Roasted Chicken w/ Black Truffle Paste & Mushroom in Foil Pastry, Stir Fried Egg White & Mini Scallops, Parma Ham & Cheese Toast w/ Black Truffle, Paella, Baked Fan Scallop on Angel Hair, Lobster Bisque w/ Puff Pastry.
Sweet Temptations: French Opera Cake, Braised Pear w/ Red Wine, Apple Strudel w/ Vanilla Sauce, Crème brûlée, Assorted Macaroon, Bailey's Cheese Cake, Chocolate Soufflé , Mango Mille Feuille, 4 tastes of Swiss Movenpick Ice Cream & 4 tastes of Haagen-Hazs Ice Cream.
*Specialties of the buffet are served on rotation basis.
Available from: May 1, 2018, Monday to Sunday & Public Holiday
Dinner Buffet: 6:30pm – 9:30pm
Adult$528, Child$328
*10% service charge on original price.
"Like" our Facebook Fan Page or "Follow" Instagram: prudentialhotel: on Monday to Thursday (weekday) discount will be offered to 30%, Friday to Sunday & public holiday eve offered to 25%.
Reservation: +852 2732 4611